Some railroad signs
of the Hungarian State Railvays
by the Gigant Club.
---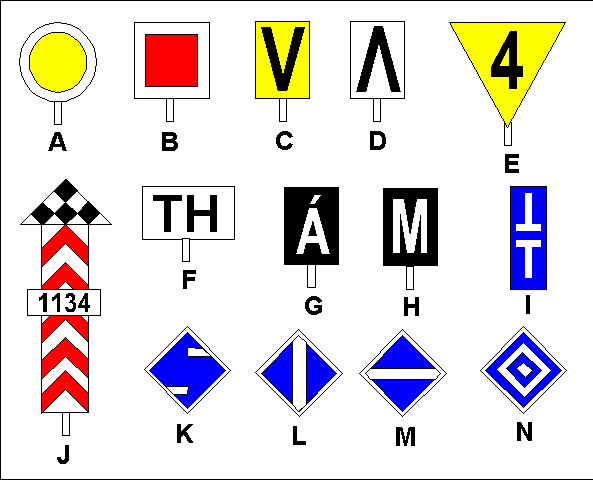 ---
This review is not complete... we don't want to put here all the signs, but we think it will be useful.


STOP signs.
A B type STOP sign will come next.


B STOP sign.



Speed limits
C Start of the speed limit.


D End of the speed limit.


E A speed limit comes next. The number on the plate multiplied by 10 will give the maximal allowed speed.


Signals around a station
F "Shunting limit". The shunter train cannot pass this limit.


G "Stop here" The train must stop by the sign at the station.


H A stop comes next.



Special signs
I You will enter a new power supply area, power must be cut off.


J Give a warning sound. (for example before a railroad crossing. The number shows the place of the crossing.


K Warning sign before L, M and N


L Push up the current collector.


M Sink the current collector.


N Electric engines must stop.



---



If you have some questions, problems, suggestions or additions, please contact the V63 Gigant Club.

---
Last update: Mon Apr 14 1997
---