Gigant Club Technical Pages
---
Technical information about the M32 shunter:

Manufacturer
Ganz-MÁVAG (Hungary)
Mnfr. year
1972-1974
Total number
built for MÁV
56
Diesel engine
8 VE 17/24
Traction
Hydraulic
Cont. Power
257kW
Wheel arrangement
C
Wheel diameter
920 mm
Total length
9510 mm
Height
4100 mm
Width
3100 mm
Weight
36 t
Max. speed
22 / 60 km/h (*)
(*) Shunter/normal transmission
(**) Picture from: László Bosnyák
---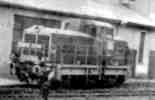 M32 2030 at Szolnok.
My first photo of an engine (JImre).
(M32 2030,2031,2035 also worked there.)


---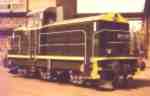 M32 diesel engine in the original livery.

---

If you have some questions, problems, suggestions or additions, please contact me:

V63 Gigant Club
Imre J&aacutekli: jimre@para.chem.elte.hu


---

Back to the engine list.
Last update: Tue Jun 11 1996
---